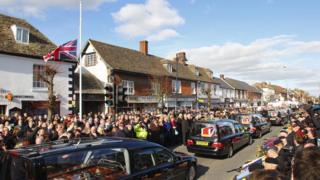 PA
The town of Wootton Bassett is holding a special service to mark the end of its role as a place for people to pay their respects to soldiers killed in conflicts.
For four years, the coffins of soldiers who died in Iraq or Afghanistan have passed through the town.
People would line the streets in silence to show their respects.
Many came from around the country to take part in these unofficial ceremonies.
On Wednesday night the town's union jack flag will be taken down and blessed.
It will then be handed over to RAF Brize Norton in Oxfordshire where British forces killed overseas will be taken to in future. The town of Carterton, near RAF Brize Norton, plans to continue the tradition started by the people of Wootton Bassett.
In September the town will be renamed Royal Wootton Bassett, in honour of the role the people there played remembering dead servicemen and women.