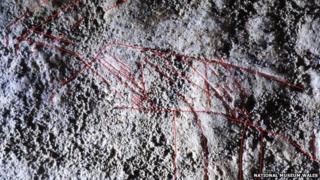 Other
A rock carving in South Wales has been confirmed as one of the oldest known examples of cave art in Britain.
The image of a speared reindeer is thought to have been carved by a hunter-gatherer in the Ice Age, making it at least 12,000 years old.
It was discovered in a cave on the Gower Peninsular in September 2010 by archaeologist George Nash, who called it "very, very exciting".
Experts are now working to find out more about the cave and its artwork.