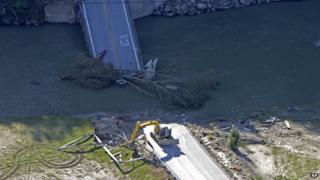 AP
Emergency supplies are being air-lifted to American towns cut off by the devastation of tropical storm Irene.
Soldiers stepped in to help after more than 200 roads were blocked or washed away in the state of Vermont, leaving 13 towns completely cut off.
It's the worst flooding there in 84 years and officials are warning that some river levels are still rising.
So far, Irene is said to have killed 44 people in 13 states, and caused billions of pounds' damage.
Of the millions of people on the east coast who lost power in the storm, about half still have no electricity.