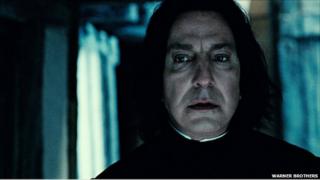 Warner Brothers
Harry Potter fans from across the globe have voted Severus Snape as their favourite character from the books.
More than 70,000 votes were cast in the online poll and Professor Snape got 20% of them, making him the clear winner.
Hermione Granger took second place and Sirius Black came in third. Harry, who is author JK Rowling's favourite character could only reach fourth.
Voters could choose from a list of 40 characters or suggest their own.
The least popular characters were Fang, Hagrid's dog, and the Fat Lady in the portrait at the entrance to Gryffindor who only got one vote each.
Top 10
1. Severus Snape
2. Hermione Granger
3. Sirius Black
4. Harry Potter
5. Ron Weasley
6. Luna Lovegood
7. Ginny Weasley
8. Albus Dumbledore
9. Dobby
10. Draco Malfoy