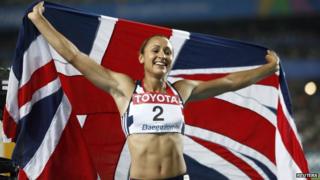 Reuters
Jessica Ennis has had to settle for a silver medal at the World Athletics Championship in Daegu, South Korea.
To win gold Ennis needed to finish nine seconds ahead of Tatyana Chernova from Russia in the final event in the heptathlon competition - the 800 metres.
Despite leading for much of the race, Ennis only managed to finish one second ahead of her nearest rival.
But there was some consolation - she did set a personal best time.
Ennis had been leading the competition, which is made up of seven different events, until the javelin which is the sixth round, where she admitted she had a bit of a disaster.
She said: "It was just the javelin. That's what lets me down. Every time I did it I felt like my foot was slipping.
"But it's still a medal. I thought it was going to be tough this year."