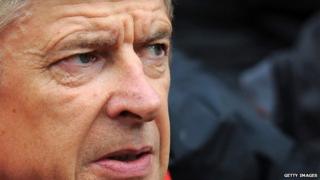 Getty Images
Whichever way you look at it, Arsenal's 8-2 defeat to Manchester United on Saturday was absolutely shocking.
But we want to know what YOU think about it all. What should Arsenal do next?
Should they get rid of Arsene Wenger? Or should they buy more players before the transfer window closes tomorrow night?
Perhaps you're an Arsenal fan like Sonali, and you think you have the answer for your fave team?
Or maybe you're a Manchester United fan like Ore, and you just want a good old-fashioned gloat!
Whatever you think, WE want to know.
Sorry this page is now closed, but check out some of the best comments below.
Your comments:
"I think they should improve their passing skills to help score more goals."
Lara, 12, Kent, England
"I'm an Arsenal fan and I felt really sad about the score and what happened. I have noticed that Arsenal play well but their defence lets them down a lot. They have only got Vermaelen and Frimpong as their good defenders, but I am glad that they might have bought the brilliant Per Mertesacker!"
Kareena, 10, Coventry, England
"Wenger is amazing at getting players in from less good clubs and helping them go on to be a world star, however, to win something he needs to bring in more experienced players from Champions League clubs."
Joe, 10, Richmond, England
"I am very upset at the result. Wenger is a legend, he helped in 2003/2004. The players were young because Arsenal lost their players through injury and three red cards. This must be hard for Wenger. Keep Wenger for one more season. He is desperately trying to keep the team together. The transfer window is ending soon but he is trying to sign as many players as he can. He has £80 million in the bank so in the next transfer window he can buy new players. I don't think Wenger should be sacked this season unless Arsenal don't do well."
Daniel, 12, London, England
"8-2 is a disgrace. I am an Arsenal fan but now I am worrying if the club will even make the top five this season. Arsenal need to sack Wenger and buy better players if they want to compete for the title."
Patrick, 10, Newcastle, England
"I don't think they should get rid of Wenger, but I think they should buy some better, maybe more experienced, players because at the moment Arsenal is made up of young inexperienced players."
George, 12, Sussex, England
"Arsenal should use the money from Nasri and Fabregas to get good defenders and get a new scout."
Sam, 12, Hampshire, England
"Bringing young youth team players through the club is great, but they're not world class players. Wenger needs to get new players or they will be in serious danger of relegation."
Gemma, 12, London, England
"Arsenal should not sack Wenger. He has done so much for the club that it would be disgraceful if he was sacked. Arsenal have £80 million to spend from Nasri and Fabregas, plus money from the board. Whoever says Wenger should be sacked, knows nothing about Arsenal or football altogether."
James, 13, Surrey, England
"I think Arsenal should train harder and buy more players who would be able to play better."
Milliee, 13, Birmingham, England
"I think Arsenal should buy more older players because they always have young players on the squad."
David, 12, London, England
"Since Arsenal have lost Cesc Fabregas and Samir Nasri they need two central midfielders. I think their team should go like this; Almunia, Sagna, Vermaelen, Djourou, Gibbs, Walcott, Wilshere, Song, Arshavin, Van Persie, Gervinho. Instead of Song they should either buy Arteta, Parker, Carrick or Keita!"
Jamie, 10, Eastbourne, England
"Arsenal don't need to buy more players, they have bought loads of players, we have just bought a Brazil defender today."
Tom, 10, Folkestone, England
"I think Arsenal should stop buying young players. I don't want Arsene Wenger to go because he is a great manager but I think Arsenal should start buying some world class players from rubbish teams. By the way I'm an Arsenal fan."
Jack, 8 , London, England
"Well I'm an Arsenal Fan! I think they should buy more players like Liverpool who now get a total team change around. They should buy players who are experienced and maybe young stars who are brilliant!"
Nivethan, 12, London, England
"Wenger let them down in my opinion and the team just gave up! Arsenal's future now is uncertain. They're officially over - like Busted! Nothing will get them back to winning ways!"
Brad, 10, Bournemouth, England
"I think Arsenal should keep Wenger. He's done a lot for the club. Man U winning was complete and utter luck. I think that if Wenger buys a respectable young player then Arsenal could get back on track."
Freddie, 11, Surrey, England
"I think everybody should follow Arsenal's example and sell their two best players so Man United can thrash everyone!"
Daniel, 11, Merseyside, England
"I think Manchester United should go home proud and Arsenal should improve their passing and create more chances to score goals. Come on Rooney!"
Louis, 10, London, England
"I think they should buy new players and they need to get a new manger!"
Sabrina, 11, London, England
"I'm a Man Utd fan but I think Arsenal should just say 'we lost and and we'll to do better next time'!"
Alex, 12, Somerset, England
"Arsenal can't play to save their lives at the moment and their manager doesn't know how to coach either! He's rubbish!"
Emily, 11, Hull, England
"They should get rid of Wenger and get a new manger because losing by that amount was disgraceful. It was their worst defeat since late 1800s!"
Adam, 10, Bolton, England
"It was a brilliant match! 8-2 to the Reds! If this carries on, then Arsenal will be relegated to the Championship!"
Ruri, 10, Nottingham, England
"I'm a Manchester United fan but I think Arsenal need to buy more players. That could make them a stronger team."
Claudia, 13, Indonesia