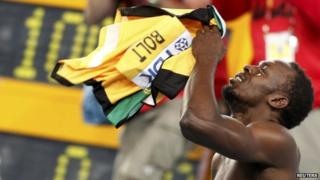 Reuters
Usain Bolt says he won't let his disqualification from the 100m final affect him when he defends his 200m title at the World Championships.
The world record-holder said he was said "extremely disappointed" when he wasn't allowed to race in the 100m final after making a false start.
But he said he had to move on as there was no point dwelling on the past.
"I know that I am now in good shape and will focus on running well in the 200m," he said.
Bolt's training partner Yohan Blake went on to win gold in the 100m final.
Last year, the people in charge of world athletics introduced a false-start rule that means athletes don't get a second chance if they set off before the starting pistol fires.
Before it was introduced, Bolt backed the new rule saying it would be better for the sport.
Speaking before the 2009 World Championships in Berlin, he said: "For me, I have no problem, I never false-started yet. It will be a problem for some people but not for me."
Usain Bolt isn't the only athlete to have suffered under the rule change at this year's World Championships. British sprinters Dwain Chambers and Christine Ohuruogu have also been disqualified from their events.