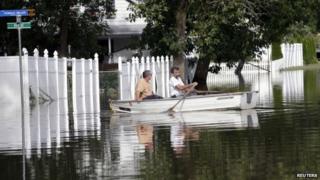 Reuters
Parts of the east coast of America are suffering their worst flooding for 50 years, in the aftermath of tropical storm Irene.
The number of people killed in the storm has risen to 40, and millions are still without electricity.
In some areas, the clean up has started but officials are warning the flooding could continue for up to three days in northern states like Vermont.
Irene has now moved into Canada, but it's left a trail of devastation.
From North Carolina to Vermont, driving rains and flood tides have wrecked homes and cut power to more than three million people in New Jersey, Connecticut and New York alone.
Government officials are due to visit some of the worst affected areas later to assess the storm damage, but the cost of putting things right is already expected to cost billions of pounds.