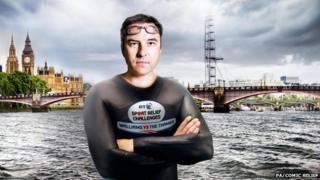 PA
Top British comedian David Walliams has announced his latest challenge to raise money for Sport Relief - swimming the length of the River Thames.
The Little Britain star will brave raw sewage and deadly diseases during the 140-mile swim from Lechlade in Gloucestershire to Big Ben in London.
He'll also have to deal with powerful currents and very cold water during the eight-day challenge, from 5 September.
It's all part of the Big Splash campaign to get more people swimming.
David said the Thames isn't a safe environment to swim in as it's home to all sorts of bugs, such as salmonella and E.coli, which can make you really ill. But he'll have a team of experts on hand to keep him safe.
He said: "Most people in the UK know the Thames, and most people think the idea of swimming in it is horrifying. And it is. It'll be relentless.
"It's a huge distance so I'll need all the support I can get.
Swimming success
It's not the first time David Walliams has tackled a swimming challenge for Sport Relief.
In 2006, he raised £1million by swimming across the English Channel, and in 2008 he swam the Strait of Gibraltar from Spain to Morocco.
Sport Relief is a charity which helps vulnerable people in the UK and in some of the world's poorest countries.