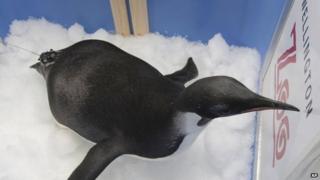 AP
An emperor penguin who got lost and washed up on a beach in New Zealand, is being returned to his home thousands of miles away in the Antarctic.
The penguin, nicknamed Happy Feet, had to have an operation after gobbling up lots of sand thinking it was snow.
He's been nursed back to health at Wellington Zoo, and given a diet of fish milkshakes to help prepare him for his return to the wild.
He's also been fitted with a tracking device that will monitor his progress.
Happy Feet will spend four days at sea on a research boat to take him closer to home before he is released into the water.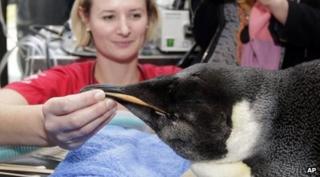 AP
A public campaign raised thousands of pounds towards the cost of Happy Feet's treatment after he was found on Peka Peka beach in June.
At first, he seemed healthy and experts didn't want to interfere, but they changed their minds when he became ill after guzzling down sand on the beach.
Emperor penguins usually eat snow so their bodies have enough water and to keep them cool.