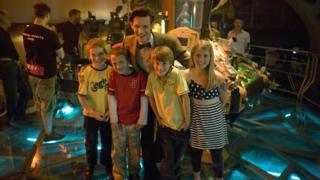 Reckon you could come up with a great adventure for Doctor Who?
A group of schoolchildren from Basingstoke have won a competition to make a mini episode of the sci-fi series.
The kids got to travel to Cardiff to see the episode called Death is the Only Answer being filmed and meet the doctor himself!
The special one-off episode of the Timelord's adventures will be on Saturday, 1 October on BBC Three.
The competition was open to primary school children around the country.
Entrants had to write a script which included Matt Smith and one of four monsters from the show - Ood, Judoon, Cyberman, or Weeping Angel - as well as a brand new human character to test the wits of the Doctor.
Matt Smith was really impressed by the winners' work: "It was so clever, we were all just bowled over, it was a brilliant script."
The finished script is a closely-guarded secret but we do know that it will include the doctor, a famous historical figure and a fez.