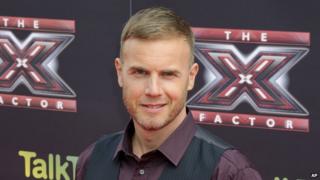 AP
X Factor judge Gary Barlow has said that he's fed up of hearing people singing Adele songs.
He reckons that so many Adele's tunes have been sung by contestants this year that he doesn't want to listen to them anymore!
He said "This year has been all Adele - we're sick of Adele."
It isn't just Adele that he's got him angry, apparently there have been too many Lady Gaga wannabes too!
Gary wasn't afraid to let Adele know how he felt: "She came to one of the Wembley shows and I said to her, 'I've got to be honest; I'm really sick of your album because it's all that's been played at X Factor.'
"But she completely understood. And Lady Gaga, we've really had enough of them two."
Luckily he hasn't had enough of Take That covers; he said, "We've had a few people do Take That songs, and we had one guy from a lookalike Take That band - and he was me."
He told fellow judge Kelly Rowland that people covering his songs showed just how big a star he was!