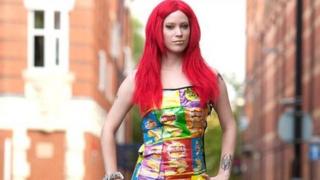 Other
When you're done with a packet of crisps you normally just chuck it in the bin; but one design student had a different idea...
Rebekah decided to stitch together hundreds of the empty wrappers and make a dress for her end-of-year project at college.
It took her over two months to get enough packets and sew them all together.
The dress won Leicester College's top Sustainable Design Award.
Rebekah put a collection box in her college and asked other students to drop off their empty wrappers.
She then had to wash them all out to get rid of any leftover crumbs!
She said that: "It's such a big thing for fashion these days to try to reduce waste so I took it a step further."
Another student at the college made a dress made out of recycled newspapers.