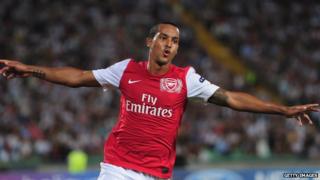 Getty Images
The draw's been made for the group stage of the Champions League.
Now Manchester City, Manchester United, Arsenal and Chelsea know exactly who they're up against.
Manchester City have a tough draw facing German side Bayern Munich, Spanish team Villarreal and Italian club Napoli.
Last season's finalists Manchester United's toughest opponents are Portuguese side Benfica.
Arsenal were drawn against Marseille, Olympiakos and Borussia Dortmund. And Chelsea will be meeting Valencia, Bayer Leverkusen and Belgian side Genk.
We want to know what which team you think has got the easiest draw?
Do you think that Manchester United will cruise through to the next round?
Will Manchester City's star-studded team be able to match up to some of the biggest teams in Europe?
Or do you think Arsenal stand a chance without Cesc Fabregas and Samir Nasri?
Whatever it is, we want to know!
Your Comments:
Check back soon to see what NR viewers think!