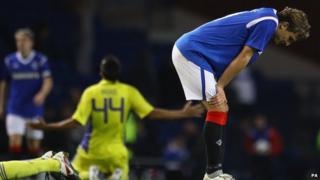 PA
There'll be no more European football for Scottish teams this season after Celtic, Hearts and Rangers have all been knocked out of the Europa League.
Rangers could only manage a 1-1 draw with NK Maribor at Ibrox. Carlos Bocanegra's goal on the night was not enough and the Solvenian side go through to the next round winning 3-2 over two legs.
Celtic got off to a terrible start against Swiss side Sion as Daniel Majstorovic was sent off in the first minute. The ten-man team lost 3-1.
But even though Celtic lost their match there's a chance they might get back into the competition because Sion may have fielded five ineligible players.
Uefa boss Michel Platini said: "FC Sion has not respected the rules of the transfer ban - they signed players and then played those players."
A hearing to decide if Sion has broken any rules will take place on Tuesday.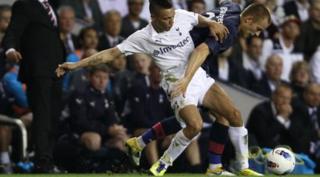 Reuters
Meanwhile, Hearts couldn't turn around their first leg 5-0 deficit to Tottenham even though Harry Redknapp opted to field six young players.
Despite chances from Hearts players Gordon Smith and Rudi Skacel the match ended goalless.
Speaking to reporters after the match Hearts manager Paulo Sergio said he didn't think Scottish football was in trouble.
"There are great footballers in Scotland. There are great teams in Scotland too, stronger than ours.
"Sometimes in football the strong ones don't win. I don't believe that Maribor and Sion have stronger squads than Celtic or Rangers but that's just football," he said.