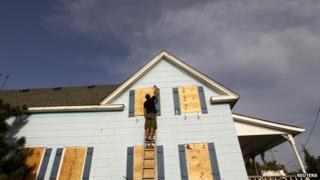 Reuters
People are making last minute preparations to protect their homes and stocking up on supplies as Hurricane Irene heads slowly towards the east coast of America.
Evacuation plans have been put in place and many people have been forced to leave their homes in parts of North Carolina, Maryland, Delaware and New Jersey.
Forecasters estimate that Irene's winds stretch out for 400 miles and measure around 115 mph. It's been classified as a catergory three storm.
The mayor of New York Michael Bloomberg has said that people living in low-lying areas of the city should think about leaving before the hurricane hits.
He's also warned that public transport systems might have to be shut down too.
Even if the hurricane does not reach land it's likely that the heavy rain, which is part of its weather pattern, could cause flooding in some areas.