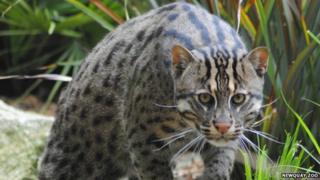 Other
In the wild, fishing cats are found across south east Asia; but Otto is off to a slightly colder location...
The rare fishing cat has been raised at Newquay Zoo in Cornwall but is being sent to Estonia in northern Europe to find a mate.
Fishing cats are different from the common moggy because they love to swim; they even have webbed feet!
The cat's numbers are falling due to water poisoning so Otto's breeders hope he is able to find a mate soon.