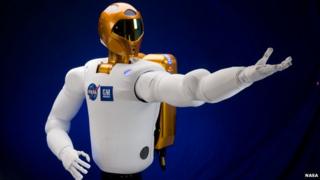 NASA
Nasa has switched on the first human-looking robot in space, at the International Space Station.
Known as Robonaut or R2, the robot was delivered to the space station in February and is being tested as an astronaut's helper.
It has taken six months for all of the operating systems to arrive.
In September, controllers at Nasa headquarters in Florida will try to get Robonaut to move its fingers, arms and hands.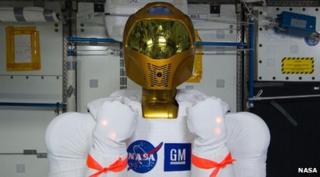 NASA
At the moment R2 operates from the waist upwards, but a pair of legs are currently being designed for it and should be attached in 2013.
There are no plans to send R2 out into space, it'll just carry out experiments inside the space station; but future versions may be able to go on spacewalks.
After waking up, Robonaut was straight onto the social network twitter to tell a growing army of fans about what it's like on board the Space Station.