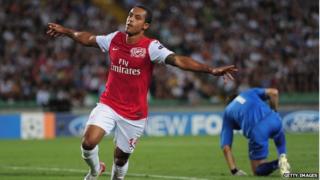 Getty Images
Arsenal have made it through to the group stages of the Champions League beating Italian side Udinese 3-1 over two legs.
The London club won the first leg 1-0 but Udinese quickly took the lead in Italy with a header from Antonio di Natale.
Robin Van Persie brought the scores level with Arsenal's equaliser set up by Gervinho. But the match turned when Arsenal goalkeeper Wojciech Szczesny saved a penalty. Theo Walcott's goal sealed the win to take score to 2-1.
The win means that Arsenal are in the draw for the group stages of the Champions League.
The club have had a difficult few weeks losing Cesc Fabregas to Barcelona and midfielder Sami Nasri to Manchester City.