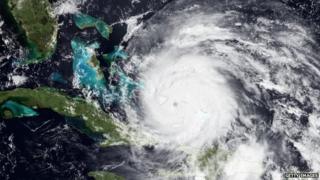 Getty Images
Hurricane Irene has grown in strength as it travels over the Carribbean Sea and heads towards the east coast of America.
It's packing winds of 110 mph and is expecting to reach the mainland of America by Saturday afternoon.
Tourists have left some islands in the Carribbean to avoid the hurricane. In the Bahamas the government has set up emergency shelters as winds battered phone lines and also ripped of the roofs of houses.
The states of north and south Carolina are expected to be worst hut by Hurricane Irene and many people are choosing to evacuate the area.