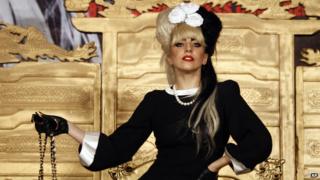 AP
Homer, Marge, Bart and Lisa and Maggie are going to be joined by a new star... Lady Gaga!
The show's bosses have confirmed that the stylish superstar will be a guest character in The Simpsons.
Gaga has already recorded her voiceover for the character but said she found it hard to get her lines right.
The episode, called Lisa Goes Gaga, will be on TV in the UK sometime next year.
The singer was pretty excited about being on the show.
She said: "I would say this is one of the coolest things I've ever done.
"My dad's probably going to do 80 back flips when the episode comes out."