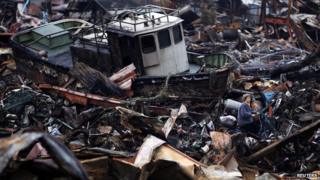 Reuters
In recent years, there have been some really big earthquakes.
Japan earthquake and tsunami, March 2011
A massive 8.9 magnitude earthquake and tsunami struck Japan killing over 15,000 people.
The tsunami damaged a nuclear plant in Fukushima in the north of the country which later suffered several explosions causing people living nearby to flee their homes.
Christchurch, New Zealand earthquake, February 2011
Over 150 people were killed when a 6.3 magnitude quake hit Christchurch in New Zealand.
The tremors caused the city's cathedral to collapse and was the country's worst natural disaster in 80 years.
Sumatra earthquake, October 2010
A big 7.6 magnitude earthquake hit off the coast of the Indonesian island of Sumatra.
Over 700 people were killed. The quake hit just a few hours after an earlier one in the area caused a tsunami that killed 100 islanders.
Qinghai, China earthquake, April 2010
At least 400 people died after a magnitude 6.9 earthquake struck western China's Qinghai province.
Chile earthquake, February 2010
An 8.8 magnitude earthquake struck Chile in South America.
Over 400 people were killed, and it triggered tsunami warnings across the Pacific ocean.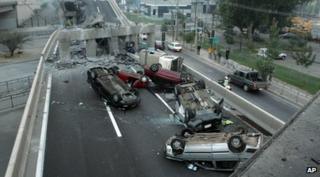 AP
Haiti earthquake, January 2010
A strong earthquake hit Haiti in the Caribbean.
It devastated the country, and it's thought between 100,000 and 200,000 people died.
Hundreds of buildings were demolished and 1.5 million people were made homeless.
L'Aquila, Italy earthquake, April 2009
Around 150 people were killed in central Italy when an earthquake struck in a city called L'Aquila.
More than 50,000 people were left homeless by the quake.
Sichuan, China earthquake, May 2008
Around 87,000 people are thought to have been killed in China by an earthquake in the Sichuan region of the country.
As many as five million homes were destroyed in the 7.5 magnitude quake which was the biggest to strike the country for 30 years.
Peru earthquake, August 2007
More than 450 people were killed in Peru by a 7.9 magnitude quake.
Java, Indonesia earthquake, May 2006
More than 3,000 people were killed by an earthquake that struck the Indonesian island of Java.
More than 200,000 people were left without shelter by the 6.2 magnitude quake.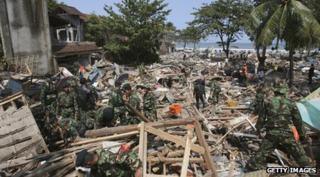 Getty Images
Indian Ocean earthquake and tsunami, December 2004
Some 300,000 people were killed when a 9.0 magnitude earthquake in the Indian Ocean sent huge waves called tsunamis crashing into several Asian countries.
The countries worst affected were Indonesia, Sri Lanka, India and Thailand.