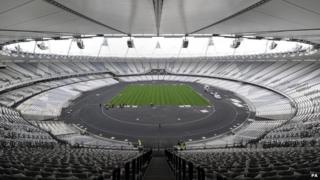 PA
Tottenham and West Ham have been back in court to try to get control of the Olympic stadium once the London 2012 games have finished.
The two football clubs would like to take over the stadium to make it their new home ground.
Earlier this year, the company dealing with what happens after the games gave its support to the West ham bid.
But it's now been announced that Tottenham will be allowed to challenge that decision.
Some people had thought that Spurs were going to give up their challenge and build a new stadium, closer to where they now play at White Hart Lane.
But their lawyers said the club still want to take over the Olympic stadium. They explained that the club felt the decision to give the ground to West Ham was unfair.