Colonel Gaddafi has told his supporters to stand up to the anti-government fighters who have taken over his headquarters in the Libyan capital Tripoli.
In a radio speech, also shown on TV, Col Gaddafi urged his supporters to keep fighting.
No one knows where Col Gaddafi is and some think he might have escaped using a network of underground tunnels.
People have been celebrating and waving flags on the streets of Tripoli.
The anti-government fighters have been destroying all of the symbols and statues which were inside his headquarters.
Now the leaders of the anti-government forces are all heading to the capital to start new government.
Fighting has continued in other parts of the country which are still loyal to Col Gaddafi, who has been the Libyan leader for 42 years.
Journalists freed
The Hotel Rixos in the capital had been taken over by Gaddafi forces and anyone staying there was forced to stay inside by armed soldiers.
Those who were trapped inside the hotel were released on Wednesday afternoon after being held captive for days.
One of the people who had been inside the hotel was BBC reporter Matthew Price. He said that he was worried that Gaddafi forces might make the hotel its base as it made one last effort to beat the anti-government forces.
Most of the people trapped in the hotel were journalists although there were politicians from American and India too.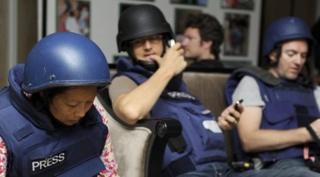 Anti-government fighters have been trying to overthrow Col Gaddafi since February. They're not happy with the way he treats his people and they want him out.