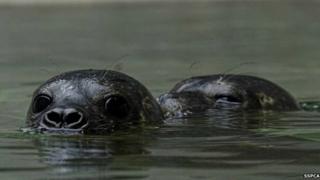 Other
Sand and Jellyfish have had a tough start in life.
Both seal pups had to be rescued in Oban, off the west coast of Scotland, after being separated from their mothers.
They were taken to a re-homing centre in Fife to be looked after until they were old enough to feed themselves.
Ever since meeting in the centre the pups have become inseparable, and will now be released back into the wild together!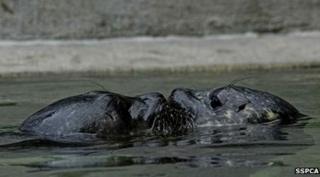 Other
Staff say that it is very rare for seals to become friendly with other pups.
Centre manager Colin Seddon said that "Generally they tolerate one another but I have never seen two as close as this in 30 years of dealing with seals."
The pups play together and even sleep side by side at night!
When the pair are released back into the wild staff hope that they will stay together to keep each other company.
They're two of 14 harbour seal pups currently being looked after at the Scottish SPCA Wildlife Rescue and Re-homing Centre near Dunfermline, in Fife.