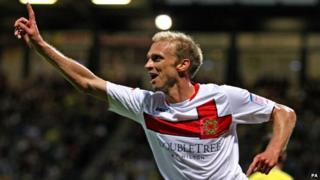 PA
Premier League sides Norwich City, Sunderland, Queens Park Rangers and Swansea City have all crashed out of the Carling Cup in the second round.
There was humiliation for top flight Norwich as they were beaten 4-0 at home by League One side MK Dons.
Swansea were kicked out by League Two Shrewsbury, while Sunderland lost thanks to a Brighton extra time goal.
But it's good news for Aston Villa, Wolves and West Brom, who all made it through.
QPR boss Neil Warnock has said he's pleased his club is out of the Carling Cup.
He commented: "I don't think people care about the competition... I'm not disappointed to be out. The competition is not a priority for us."