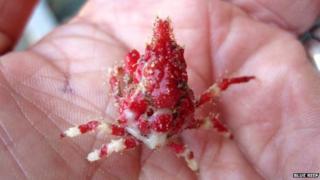 Other
If you go rock pooling this summer you'd have to look pretty hard to spot a crab like this one.
This super rare spider crab has been found in the sea off Cornwall, after disappearing for one hundred years!
A fisherman saw the colourful crab and handed him into the local aquarium.
Aquarium staff had to call in an expert to identify the little nipper; they said there'd been no sightings of it in the area since 1912.
Matt Slater, who works at the aquarium, said: "It's hardly surprising that we weren't able to find out much about it, apparently it's incredibly rare.
"The crab's only about the size of a thumbnail and he has taken to decorating himself with tiny pieces of seaweed", he added.
There had been 13 reported sightings of the crab species before but they were all recorded during Victorian times.
The tiny crustacean will now go on display in one of the nursery tanks at the centre, but staff say visitors will have to look really hard to find him!