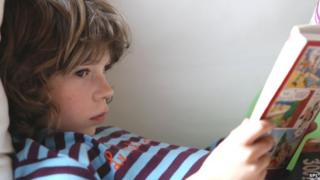 SPL
Only around one in six of you pick up a book outside the classroom, according to the National Literacy Trust, a charity that aims to get more people reading.
They've also found that you're more likely to read a text or email than a novel - and that's making some experts worry that children aren't reading enough.
We want to know what you think - do you enjoy reading? Do you think it matters what you read?
Perhaps you believe that reading emails is just as good as flicking through a book? Or maybe you reckon if you only read texts you won't do as well in the classroom?
Let us know your thoughts!
Thank you for all your comments, this page is now closed but you can read what others have said below.
Your comments:
"I'm not a big reader. Certain books are amazing. They expand my imagination! My favourite author is Anthony Horowitz."
Megan, 13, London
"I love The Secret Series, I can finish one of those books in three days, no lie!!"
Ella, 11, Co. Mayo, Ireland
"I love reading. In the summer holidays the library had a reading thing where you had to read six books. I can't wait to go back to school and read more and more and more!"
Janusha, 9, Essex, England
"I read every day for at least three hours! I go to the library and I read at home as well. I am also on a course to read six books in six weeks, so I am dedicated to my reading!"
Emily, 11, Hull, England
"I am not too keen on reading books; I prefer to read the news and emails."
Annie, 12, Leicester, England
"I've been a bookworm since I was a baby! I still read every day. I hate to say that sometimes the laptop takes over in the holidays, but I always fit in time for a book!"
Daisy, 13, Leicester, England
"My mum has to tell me to put my book down at night so that I can get some sleep! My favourite books have to be Warrior Cats."
Megan, 13, Berkshire, England
"I love reading, especially A Series of Unfortunate Events by Lemony Snicket. I don't think enough people read in my school. Once you find a good book, you can't put it down!"
Jessica, 9, UK
"I love reading and I love an interesting book that you can't put down! I think children should read books more often. My favourite books are The Water Babies, the Gallagher Girls and the Harry Potter series!"
Millie, 10, north Yorkshire, England
"I read 24/7! You can pick up a book and be transported into another world, but you use reading for everyday life as well. If you are a confident reader you are able to express yourself better."
Millie, 13, Hampshire, England
"I love reading and always have my Kindle nearby. I read two books a week. I think children should all read because it helps with your vocabulary."
Lottie, 12, Clackmannanshire, Scotland
"I read all the time and I think that the survey isn't right because in my school nearly everyone reads outside of school, I do a lot!"
Olivia, 11, Chester, England
"I love reading! I like the The Name of This Book is Secret series and when I enjoy the book, I can read a 700 page one in a week!"
Essie, 12, Buckinghamshire, England
"I read all the time because it helps me in school."
Annya, 11, Norfolk, England
"I really enjoy reading and I can't see why anyone wouldn't! It's great just for chilling and relaxing and also really comes in handy if you have read a book on something you have to do at school. I love the Harry Potter books and the Percy Jackson series aswell. YAY books!"
Lucy, 12, Brisbane, Australia
"I read books when I feel like it! I like to read Diary of a Wimpy Kid books. I read books on school days and I sometimes read them on the weekends. Most of the people I know read books and I think that the facts are wrong!"
Munira, 11, London, England
"I can't survive a day with out my books! I love reading. Reading makes your imagination wild. It makes you think. You also learn more than you think you will."
Melonie Jen, 10, Canada
"I read a book everyday at night. I think it does matter because the less you read the worse grades you will get in reading at school!"
Madihah, 10, Croydon, England
"I love reading and have loved reading since I was little. I think your english is improved when you read and you should read books that challenge you. My favourite book series are Cheurb and Harry Potter. I read Harry Potter and the Goblet of Fire in 2 days and I recommend Harry Potter to everyone!"
Mashal, 12, West Midlands, England
"I love reading! My favourite authors are Steve Cole, Jeremy Strong and Cressida Cowell. I like books because they keep you entertained and you can read books anywhere. I have a big bookcase full of books."
Adam, 9, Reading, England
"I LOVE reading! I read in the car, at home, at school everywhere! I just love reading and like using my imagination instead on seeing it on tv. If you offered me a phone to a book I would go for the book. It's a shame that not a lot of children enjoy reading!"
Chloe, 11, Leicester, England
"I never read, I only ever read when I am told to by my English teacher. I think they are all boring and they all seem the same to me."
Leah, 11, Essex, England
"I absolutely adore reading! I think it's sad that a lot of kids don't just pick up a book and read without being asked to by teachers or parents."
Nina, 10, Richmond, England
"I read at least one book every two days and can't go one day without some reading material! Though there are loads of people who don't read that much there are still people who love reading and can't get enough of it!"
Daria, 11, England
"I don't really read a lot but the books I do read are really good, like Michael Morpurgo books, he's my favourite author!"
Anna, 10, Scotland
"I read for about 5 hours a day, 1 hour in the morning and 3-4 hours a night. My favourites are Harry Potter books and Jacqueline Wilson. I cant get to sleep without reading because I'm so used to it!"
Olivia, 11, Essex, England
"I mostly read at school. If I'm not at school I read before I go to bed or when I wake up in the mornings. Reading is super fun!"
Louis, 11, Liverpool, England
"I love reading and I read every day. If I don't read I listen to audiobooks."
Lucy, 14, Fife, Scotland
"I read every night for up to three hours and don't usually read in the day due to distractions. I love H.I.V.E. books and Enid Blyton."
Niall, 11, Manchester, England
"I love reading books. Everyone should read them. Everytime you read something from a book you get to know what can happen in real life and the lesson that you learn from books. Everytime you read a book it's just like you are in a different world where the story happens, so it's quite fascinating."
Minh Anh, 11, Ho Chi Minh City, Vietnam
"I read a lot of books and I almost have to get every book I look at in the book shop. I didn't read as much in year 4 and went on my computer all the time but I found out about a series called the Sisters Grimm and I read like crazy now because I found the right type of book for me. I think it is better to read a book because a book can take you anywhere in the world and even to different planets! Reading is wonderful."
Catherine, 12, Worcester, England
"I read every day for about half an hour and really enjoy it most of the time. But if I don't like the book then it is really boring for me. I think you don't have to read lots of books but you should read a bit of what books you enjoy."
Cate, 10, London, England
"I can read for up to 4 hours a day, but usually I read for about 2 hours. I love books so much, but loads of my friends think that books are boring. Oh, and my favourite books are the Harry Potter books."
Eleanor, 11, England
"I read all the time, and I think it's really important to. I especially love Happy Potter novels. It only took me 3 days to read The Deathly Hallows, because I couldn't get enough of it!"
Bethany, 12, Sussex, England
"I LOVE reading! Nearly every one in my class does! Those facts must be wrong!"
Katie, 10, Hampshire, England
"I love reading!!! I read four books in a week."
Hugo, 6, Watford, England
"I love reading. I have an electronic device that lets me read books but I'm often referred to a bookworm."
Rachel, 13, Northern Ireland
"I never read, there are no good books."
Sarah, 10, London, England
"I read as often as I can, and really enjoy it. I really like the Time Riders series by Alex Scarrow."
James, 12, Basingstoke, England
"I read sometimes when I'm not doing anything. I've read almost all off the Jacqueline Wilson novels. When there's a book off a film out I tend to watch the film then read the book."
Chelsea, 12, Essex, England
"I think Jacqueline Wilson and Melissa Wareham books are good, and the Famous Five. I read EVERY night."
Freya, 7, Oxfordshire, England
"This is true, during the summer holidays I haven't been reading. I do actually get more excited reading emails than novels and to be honest I am a well educated girl."
Samya, 9, Ilford, England
"I read at least once a day! I love iCarly books and Cathy Cassidy."
Stephanie, 13, Norfolk, England
"I read a lot, especially Alex Rider books by Anthony Horowitz (they're great!)"
Rafi, 10, London, England
"I read a lot. My favourite books are Anthony Horowitz ones. I could read a 400 page book in a week and a half."
Zachary, 9, London, England
"I love reading and I have nearly always got a book in my hand. I think it does matter what you read, kids should be reading things that are challenging, but not too old for them."
Lottie, 11, Oxfordshire, England