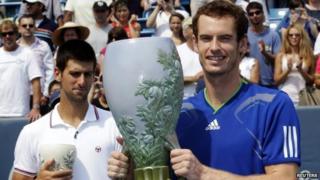 Reuters
Tennis ace Andy Murray has beaten world number one Novak Djokovic to win the Cincinatti Masters in America.
It's only the second time Djokovic has lost a match in 2011, who has won 57 times this year!
The Wimbledon and Australian Open champion retired from the final with a shoulder injury in the second set, 6-4 3-0 down.
The Cincinatti Masters is the last warm-up tournament before the US Open, which starts on 29 August.
Murray won his first Masters title in 2008 in Cincinnati - when he also beat Djokovic.
That year he made his first Grand Slam final - at the US Open - but he lost to Roger Federer.