It looks like it could be the end for Libya's leader Colonel Gaddafi - anti-government rebels have stormed the capital, Tripoli.
Col Gaddafi has been in power for 42 years, and rebels have been fighting to get rid of him since February.
Rebels swept into Tripoli's main square, tearing down flags and posters of the leader.
They were welcomed there by celebrating crowds, but elsewhere in the city they met with resistance.
Rebel leaders say they have taken control of the majority of Tripoli, including the state TV building.
But there is still fierce fighting around Col Gaddafi's headquarters, where tanks emerged to defend it.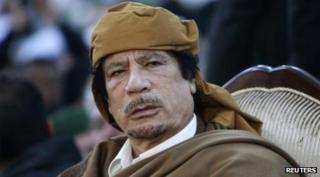 Reuters
Prime Minister David Cameron cut short his holiday to hold talks on the situation.
He said that it was clear "that the end is near for Gaddafi".
Other world leaders have urged Col Gaddafi to go, while US President Barack Obama said the movement against him had reached a "tipping point".
Crowds across Libya have been cheering and celebrating - TV footage has shown some people in Tripoli kneeling and kissing the ground, calling it a "blessed day".
The rebels claim they've captured Saif al-Islam, one of Col Gaddafi's sons, but the colonel's whereabouts are unknown.
The leader isn't giving up yet - he has vowed to fight on, and government forces still control parts of the city of Tripoli.