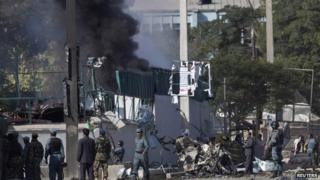 Reuters
12 people have died after a British office in Afghanistan was attacked by the Taliban.
A car bomb went off outside the British Council offices in Kabul and then armed attackers stormed the building.
Fighting lasted around eight hours as Afghan and Nato troops surrounded the building to try to rescue people trapped inside.
The Taliban said the attack was to mark the anniversary of Afghanistan's independence from Britain in 1919.
Kabul police have said that eight Afghan police officers were killed, along with three security guards and a special forces soldiers from New Zealand. 16 people were also hurt in the attack, but all British citizens are "shaken but well", say the Foreign Office.
The Taliban have said that they want Afghanistan to be independent from all foreigners. That includes soldiers from Britain and America who are helping to train the Afghan army and police.
The British Council is an international charity which runs and organises cultural activities to promote Britain around the world.