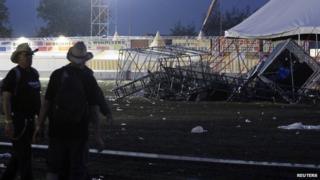 Reuters
A storm has swept through the Pukkelpop music festival, in Belgium.
Stages collasped and at least three people have died as strong winds tore up trees and pulled down lighting on Thursday.
Around 60,000 people were at the festival, which is one of the biggest in Europe.
The Foo Fighters, Eminem and the Tings Tings were all due to play at the festival.
Festival goers have said that the sky turned darked and hail stones larger than a centimetre started falling, as people ran for cover from the storm. Some people even thought a tornado had hit the site.
Around 40 people were injured because of the storm, some were taken to hospital, others who were not badly hurt were taken to a local sports hall.
Festival organiser, Chokri Mahassine, said: "We have for now put the festival on hold until we understand the situation completely."
Two cranes were brought in to try to lift a large damaged tent but the ground was too wet for the clear up to start.