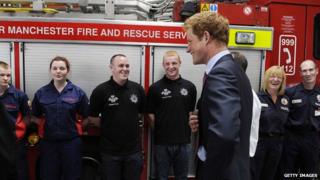 Getty Images
Prince Harry has thanked firefighters in Salford for their hard work during the riots.
The prince visited emergency services in Manchester and Salford who helped to deal with the violence in August.
He told police officers in Salford: "You all did a fantastic job on the night and it's great to see Manchester and Salford back on its feet.
"As an army officer I really respect the work you guys do and I can't praise your bravery high enough."
Harry took the day off from his army helicopter training to visit the cities.
He told local police officers that he had been shocked by the scenes he had seen on TV when gangs rioted on the streets of several places around England.
As well as speaking to emergency services he also met some Salford shop owners who had been affected.
Mr Patel, who owns a second-hand shop, said "I really appreciated he visited me, I didn't expect this to happen in my life."