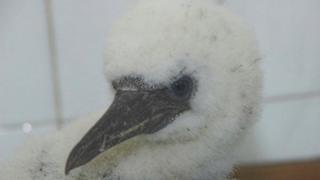 Other
Three Gannet chicks have been rescued after they were blown from their nest into the sea.
The birds were found by passers by in Bass Rock, near North Berwick in Scotland.
They're only around three weeks old and can't fly because their wings aren't strong enough to support them.
The chicks are now being looked after by the Scottish SPCA at their rescue centre near Dunfermline, Fife.
When chicks are this age and can't yet fly, they sit in the nest and stretch out their wings.
But if a high wind catches them, they can get blown into the sea, and can't get out of the water.
Rescue Centre Manager Colin Seddon said: "We will care for them for four to six weeks until they are able to fly and then we'll take them back to North Berwick to be released."