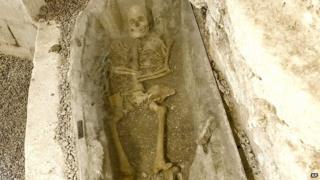 AP
An unusal house is up for sale in Sweden.
It's got five bedrooms and in the cellar there's a medieval tomb and a skeleton. The house was built on the foundations of a Russian church in 1750.
You can clearly see the tomb with the skeleton through a piece of glass.
Leif Bertwig, the estate agent selling the property, believes that the remains are likely to be a Russian man who died around 800 years ago.
Mr Bertwig says that there's no reason to be afraid of the skeleton because it's on blessed soil and "rests in peace".
The house is in Visby on the Baltic island of Gotland and it's up for sale for 4.1 million Kroner - that's about £390,780.