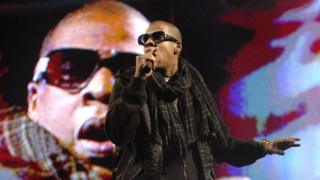 Files kept in locked suitcases and top secret meetings in hotel rooms - it all sounds like something out of a spy film...
But that's how rappers Jay-Z and Kanye West kept their new album Watch The Throne top secret before its release.
The pair's album set a new download record when it was released, selling a mega 290,000 copies in one week.
Lady Gaga and Beyonce have both had their songs hacked into and spread online before they were finished.
An American music magazine said that the boys turned off the internet on their computers and stopped sending songs in emails to make sure no outsiders could get to see their work before it was finished.
Having songs leaked on the internet is now one of the biggest problems facing the record industry.
Experts reckon that almost 99 per cent of all albums are now available illegally online before they hit the shops.
Last year, in the UK alone, a staggering 1.2 billion tracks were downloaded without being paid for.