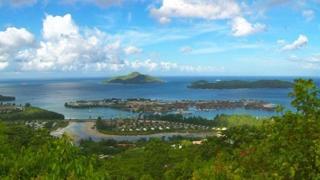 BBC news grab
A British man has died after being attacked by a shark on his honeymoon in the Seychelles.
Ian Redmond, 30, from Lancashire, lost an arm and suffered severe leg injuries when he was bitten while snorkelling off Anse Lazio beach on Tuesday.
He's the second tourist to be killed by a shark in the area in two weeks.
Officials in the Seychelles have now restricted the areas where people can swim and dive while they try to catch the shark.
Earlier this month, a 36-year-old French tourist was killed by a shark in the same area.
Sharks have a scary image, but people are more likely to be killed by being struck by lightning then they are a shark attack.