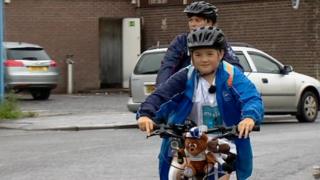 For most of us cycling to school is just about far enough, but Charlie decided to go a bit further...
The 11-year-old set off from Brighton with his mum three weeks ago and has finally reached his finish point in Glasgow.
Charlie was cycling to raise money for Mary's Meals, a charity which provides food for children in Africa.
It's the third big challenge he's taken on this year, bringing the total amount he has raised to a huge £15,000.
Charlie has been raising funds for the charity since he was six.
Throughout his bike challenge he's been carrying a special backpack which he wanted to give to the charity.
He used to carry the bag when he was younger and contains some clothes, stationery and a tennis ball.
Volunteers for Mary's Meals will place his backpack into a container containing another 5,000 backpacks, ready to be shipped out to Malawi on Thursday.