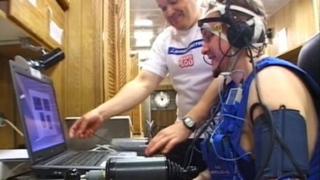 Reuters
Cosmonauts who have been taking part in a pretend mission to Mars have broken the record for the longest time spent in "space".
Instead of travelling to the red planet the cosmonauts have been living in a special container in Moscow.
So far they've been in there for 440 days, breaking the previous record of 437 days - and they're still there!
It's all part of an experiment to see if humans could cope with the long journey through space.
The crew clean themselves in a heat chamber like a sauna.
In the time they've already spent in the container they could've travelled to the moon and back 73 times OR orbited the earth over 7,000 times!