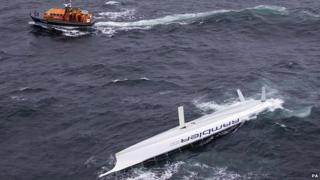 PA
Twenty-one crew members had to be rescued by the RNLI after their yacht capsized off the coast of Ireland.
The Rambler 100 was one of 314 yachts taking part in the Fastnet Race which set off from the Isle of Wight on Sunday night.
Some of the crew members were asleep when the boat overturned but managed to escape.
All of the team where taken to safety by lifeboat and only one needed to go to hospital.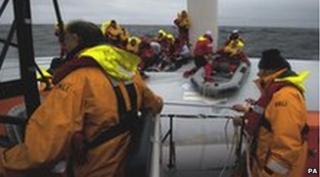 PA
Sixteen members of the crew were able to huddle together on top of the boat before they were rescued.
During the race teams have to sail 608 miles along the south coast of the UK.
Race officials say that the sea conditions weren't rough but it was foggy when the boat overturned.
In 1979, 15 people died during the race when rough seas and high winds caused their boats to turn over.