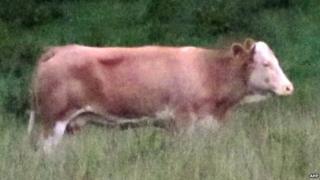 AFP
This is the last sighting of Yvonne, Germany's most wanted moo.
She's been missing since May after an udderly amazing escape on her way to the slaughterhouse in Bavaria and hasn't been seen since.
A €10,000 (around £8,700) reward has been offered by a national newspaper for her safe return.
The cow has now become a national celebrity in Germany after reports of her amazing burger-busting breakout have spread around the country.
Locals think that Yvonne knew she was being sent to the slaughterhouse and so ran off into some nearby woods.
Animal charities, animal rights campaigners, Yvonne's owner and a group of hunters are all racing to find her first.
They're all so impressed by her determination to avoid the barbecue that they've hired a handsome bull and even found her sister to try and lure her out of hiding.
It doesn't stop there, they've also roped in an animal psychic to speak to Yvonne to try and find her.
Franziska Matti, who is an animal communication expert, said "I spoke to her yesterday and she said that she was fine but didn't feel ready to come out of hiding".
The search continues...