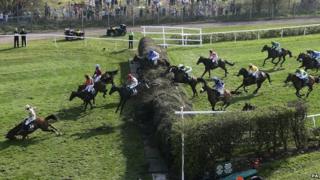 PA
Some of the most difficult fences at the famous Grand National horse race are being lowered.
It's hoped it will make the course safer after two racehorses died falling at the fences in April this year.
Aintree (the race course) and the British Horseracing Authority looked into the issue of horse safety because so many people were angry after the horses died.
They're also looking into a new post-race washdown area for the animals.
A horse welfare charity said: "Racing is never risk-free for horse or jockey, but by making these changes, Aintree is demonstrating they do care about horse welfare... We hope next year's race will be the safest yet."