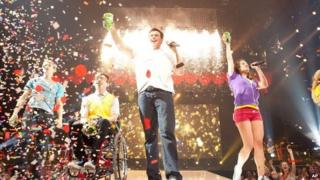 AP
Glee: The 3D Concert Movie has flopped at the US box office.
It didn't make it into the Top 10 films and only took £3.5 million over the weekend.
That might sound like a lot, but last week's top film Rise of the Planet of the Apes took £16.9 million.
The Glee film was ranked 11th in the weekly chart after opening in more than 2,000 screens, and only 500,000 tickets were sold for the movie.