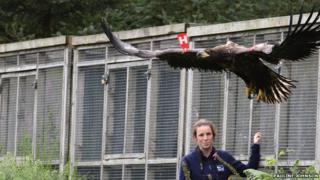 Other
A group of young sea eagles have been released into the wild in Fife as part of an ongoing project to reintroduce them across Scotland.
Norway sent the 16 white-tailed sea eaglets to Scotland in June as a gift.
Since then they've been looked after with a diet of squirrel, roe deer, and haddock until they were strong enough to be released.
Sea eagles are the UK's largest bird of prey and were hunted for years until, by 1916, there were almost none left.
The latest project to reintroduce the eagles to Scotland was started in 2007, by RSPB Scotland, Scottish Natural Heritage (SNH) and Forestry Commission Scotland.
So far, it's seen 80 birds released on the east coast of the country.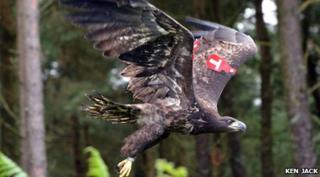 Other
The latest birds to be released have all been fitted with a radio and wing tags so staff and the public can keep track of them and follow their progress.
Claire Smith, from RSPB Scotland, said: "It's great to see these birds fit, ready and raring to try out those impressive wings for the first time.
"Every day our older birds are spotted in locations up and down the country and we're hopeful in the next couple of years the east of Scotland could have its first wild-bred chick."