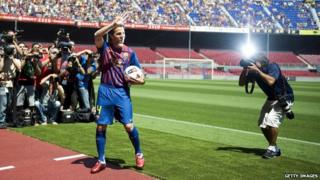 Getty Images
After months of rumours Arsenal midfielder Cesc Fabregas has finally become a Barcelona player.
Arsenal agreed a deal with the European champions, worth a rumoured £35million, over the weekend.
And on Monday, Fabregas signed a five-year deal to return to the club he left as a 16-year-old in 2003.
Since then, Fabregas has played more than 300 games for Arsenal, scoring 57 goals.
Fabregas on Wenger
Speaking at a press conference in Barcelona Fabregas paid tribute to Arsene Wenger describing him as like a "second father".
"I've waited a long time for this moment. It's a very special day. I'm returning home after eight years," said Fabregas.
"I'm grateful to everyone who have helped make today is one of the happiest days of my life. I hope to give my best to the club and that nobody regrets my signing."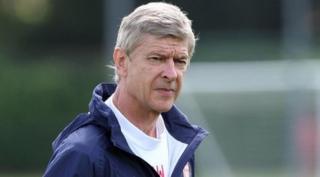 PA
Back in London his former boss Arsene Wenger said he did not want him to go but wished him well.
"We understand Cesc's desire to move to his home-town club and have now accepted an offer from Barcelona," he said.
"We thank Cesc for his contribution at Arsenal and wish him future success."