England's cricketers have become the best Test team in the world.
They claimed the top spot in the world rankings by thrashing India in the third Test at Edgbaston - by an innings and 242 runs.
Part of the victory, which has also helped them win the four-match series, was down to Alistair Cook who scored a whopping 294 runs.
Captain Andrew Strauss said the team's success was a reward for all their hard work, but they want to get even better.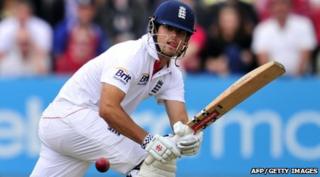 AFP
"I feel proud and honoured, not just at what we've achieved in this match but the whole of the series and what we've achieved over the last couple of years," he said.
"We've done some amazing things and hopefully there are more to come."
One of their next goals is to win the fourth Test to give them a 4-0 clean sweep in the series.