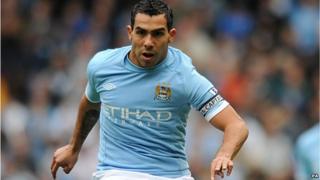 PA
Man City manager Roberto Mancini says Carlos Tevez could stay at the club beyond the transfer window - because nobody else wants him.
Inter Milan was thought to be interested in the star striker, but time's ticking away and nobody has contacted the Blues.
Man City want around £40m for the Argentinian footballer and, with his high wage demands, there aren't many clubs in the world who could afford him.
Mancini said: "I don't know if he will stay but, at the moment, there isn't a team who want to take him."
"I would be happy if he stays."
Tevez has a contract with City until 2014 and a transfer to Brazilian side Corinthians fell through in July.