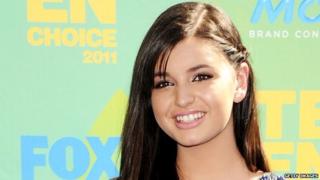 Getty Images
Friday singer Rebecca Black has revealed she was taken out of school because of bullies.
Classmates would keep asking her what day it was and sing Friday to her whenever she walked past, the internet star said.
The 14-year-old is now being taught at home by her mum, who is a teacher.
She's also had to deal with people writing nasty things about her on the internet - something she says is "not fun" and "frustrating".
Rebecca won the Web Star prize at the Teen Choice Awards on Monday.
Her Friday song was viewed more than 160 million times on YouTube.