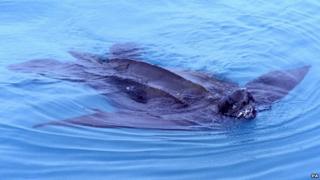 PA
Conservationists want people to look out for turtles in the seas around the UK.
Lots of leatherback turtles are visiting waters around Britain right now - because of our jellyfish!
They're the endangered turtles favourite food, and loads of them are found in the sea at this time of year.
Experts want anyone that spots turtles in the water or on the beach to report what they've seen, so they can keep a record.
The leatherback is under threat because of pollution, too much fishing and climate change - so experts think it's really important to find out more about them.
If they can record where they are found, they can do more to try and save them.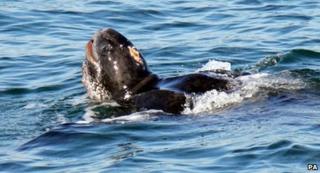 PA
"We want to know where and when they occur and if there are any hotspots so we know where they are and can run any protective measures where they occur," said Dr Peter Richardson, one of the conservationists working on the project.
'Turtle Heaven'
It's thought that numbers of the jellyfish on are the up in the seas around the UK - and turtles absolutely love them!
They must do - because they are travelling all the way from the warm waters of the Carribean to find them.
With so many jellyfish around, our waters are being described as 'turtle heaven'.
The leatherback can grow up to three metres long and could weigh as much as a tonne - and like our waters because they can keep their body temperature much higher that other reptiles.