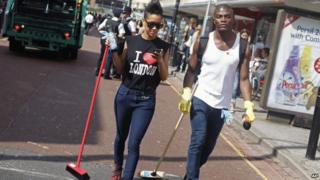 AP
People all over the country have been rallying together in response to the huge trail of destruction left by several nights of trouble.
Volunteers have been bringing out their brooms to help clean up smashed windows and looted shops.
In Peckham, south London, a "peace wall" of messages has been created on the boarded front of a store.
How has YOUR community responded to the trouble? Have you been doing something to help get things back to normal?
What do you think should be done to stop this trouble from happening again?
We want to hear your stories and thoughts.
Remember: it's important that you stay safe and make sure a parent or guardian knows where you are at all times.
Sorry this page is now closed, but check out some of your comments below.
Your comments:
"It is so nice to see everyone helping! It shows that people care!"
Hannah, 11, Essex, England
"I'm proud that we have dealt with it so quickly. Seeing things back together again makes me feel safer!"
Erin, 11, London, England
"I don't live in England but I think that the rioters should clean up the mess. After all, they are the ones causing trouble for the community. I was so surprised that some of the rioters are my age, which is 11 years old. Shame on them!"
Minh Anh, 11, Ho Chi Minh City, Vietnam
"I think it is a very good idea that people across London are making it look good again, I have begged my mum to let me go out and clean London!"
Sardia, 12, Sutton, London
"I am glad that there are some people who started tidying the streets and showing that the rioters haven't got the better of us!!"
Sophie, 11, Gloucestershire, England
"Yes! My community has responded to the riots by cleaning up the streets. It's nice to see London starting to reunite again!"
Hammam, 14, London, England
"I just feel proud to be a Londoner at the moment, because in one way... all of this is quite devastating but at the same time, it's also uniting every community!"
Nafeesa, 13, London, England
"Yes! We're cleaning up, but the mess in Leicester is not too bad so it should be OK!"
Aaminah, 14, Leicester, England
"I hope my home town gets cleaned up. I think I heard on the radio that the West Midlands is going to get cleaned up. If so I'm officially proud to be a Brummie!"
Kimberley, 12, Birmingham, England
"I don't live in London. At first I was glad but now I want to go there and help - I know it would be hard but it would be nice for the Londoners."
Phoebe, 9, Stoke-on-Trent, England
"I think all the communities that have been affected should not be doing the job as it was not their mess, the looters should be clearing up their own mess!"
Taran, 11, Milton Keynes, England
"It's nice to see all the small children helping clean up their community. All the rioters should be ashamed of themselves."
Jack, 10, Burnley, England